Chapter 8
The final rites?
Bruce Everiss and Barry Muncaster
outside the new Techno Park premises
---
Changes were indeed now in the air. Muncaster and Johnson bought the majority shareholding in Tansoft, and Paul Kaufman and Cathie Burrell promptly left to set up Orpheus with Geoffrey Guy and Geoff Phillips. Said Paul Kaufman,
"The split between us and Tansoft is amicable, there is no acrimony involved. Orpheus has obtained financial backing from two private investors, one in this country and one in France - we plan to develop a high profile in France."
Tansoft was now being headed by Adrian Rushmore, its former marketing manager. "We are concentrating our support on the Atmos", he quipped.

On the 15th November, 1984 P.C.W. revealed Oric's latest plans - to launch three new micros in Spring 1985. They were a œ250 successor to the Atmos, the Stratos, to be known as the IQ164 in this country, £400 8086 IBM compatible desktop (with cassette interface!), and a £3000 8086 portable. These early clones were to be Oric-badged products from America.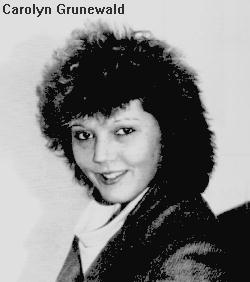 Oric Owner issue 10, December/January 1985 was as ever optimistic. The new editor was Carolyn Grunewald, former advertising manageress. The Oric IQ164 was announced to its readers; Bruce Everiss was now appointed Managing Director of Tansoft and gave a typically memorable quote:
"My first aim is to establish the Oric Atmos in its rightful market position."
As memorable is Paul Kaufman's response on hearing the news:
"His reputation says it all. The only thing that annoys me about his appointment to managing director is that he is now driving around in what used to be my Mercedes."
And that was the last issue of Oric Owner - a useful, if not particularly spectacular magazine and of course apart from the 5 issues of Oric Computing the only professionally produced English Oric magazine ever. No mainstream publisher ever felt justified in producing an Oric specific magazine, though the games magazines covered the Oric quite well. In France, meanwhile, Théoric went from strength to strength, going monthly and selling many thousands of copies a month in the newsagents. It was a magazine packed with a host of useful articles and some excellent program listings.

And Bruce Everiss did it again in P.C.N. on the 8th December:
"The IQ164 will have more modes than the BBC."
What Micro? in December 1984 reported a price reduction for the Atmos to £120, and said of it:
"A Micro that should have been a top seller, but now it seems too late."
P.C. Games Oric Game of the Year that December was Classic Racing from Salamander, and we close 1984 with another quote from Paul Kaufman:
"If Oric survives Christmas, it will survive 1985."
The problems facing Oric now were highlighted in early January, 1985. Oric s head office in Ascot was closed, and the ancillary staff made redundant.The future of the U.K. factory was dependant on sales in the first half of 1985. Oric were negotiating in France for a production plant at Longwy, near the Luxembourg border; according to Lorraine Horne (Oric s operations executive ) the plant would be operational by the middle of the year, producing for France and Europe. The French government was to subsidise the operation with grants of some £150,000 and low interest loans. Oric and A.S.N. were each investing £500,000. And Bruce Everiss was very frank for once (in a trade journal):
"Oric's performance in the U.K. this year was a total disaster. The company built up massive debts and is scheduled to repay £3.5 million to creditors by March."
The best-timed example of Oric optimism was, however, yet to come. In Your Computer for January 1985 there was a lengthy interview with Barry Muncaster and Bruce Everiss, accompanied by lots of pretty pictures. It was a double-page spread worth framing, and certainly an interview worth quoting:
"On the starting blocks are five new computers. They range from the Stratos, a £200 machine based around the Atmos, through an MSX, to a QL-style 68008 computer, with an IBM compatible and a lap-held at the top of the range... Although 1984 was the year that Oric almost disappeared from the British micro market, confidence for 1985 is based on two assets, a booming European sales - and expertise in ULA design... 350,000 units were sold in the first two years... The Stratos is to go on sale in France from February."
Sure enough the magazines in France were full of the Stratos in January, 1985. Science & Vie Micro reported in detail on its capabilities, but sounded this note of caution:
"Several points are unclear, particularly the date of release. While Oric say the end of January in France, the importer, A.S.N., prudently says March or April. It is unclear where the machine is to be made. There has been talk for some months of a factory at Longwy in France, but there is 'nothing concrete at present', says Claude Taieb. He adds that the machine will not be sold in England; "Oric asked me how many we could sell", he explained. "We said 20,000 and they said O.K., we'll go ahead". Barry Muncaster announced that the machine would be released in England, but after France."
So it was that at the Frankfurt Computer Show on the 1st February 1985 the Oric Stratos was launched, complete with cartridge ports, extended Basic and a host of other excellent features. Steve Hopps of Opelco was there. The blow was not long delayed. On Thursday, 2nd February, 1985 Edenspring put Oric into receivership. Oric had debts of no less than £5.5 million and assets of only £3 million - well behind Edenspring s conditions. According to Bruce Everiss Oric had been looking over its shoulder at the receiver for the last 6 months:
"Two factors affected Oric the most - a split within A.S.N. which vastly reduced sales in France (the Amstrad is the cult machine now), and a UK exclusive distribution deal with Prism, which did not work out."
In fact Oric had sued Prism for £4 million and obtained summary judgement for £320,000, as a result of which Prism were also in receivership!
---
Back to Chapter 7
Forward to Chapter 9